Jerry is correct; your login here gives you a "cookie", a small file that contains your username and the date/time of your last authentication. The cookie is not readable by other sites, and contains no sensitive information. When you return to Rontini, the server asks your browser of it has a cookie. If it does, it presents it to the server, and if its not expired, you are magically logged back in . If it has expired, you have to enter your credentials again.
Anyway, it's a convenience thing. They're supposedly pretty secure, but the truth is that NOTHING connected to the internet is really secure. It's, shall we say, "good enough".
If you don't like the cookie thing, you can either log out at the end of your visit, or put this site in your computer's "Untrusted Zone". You'll have to google instructions for that, it's kind of tedious.
You may have noticed in your internet travels, some websites pop up a message telling you that the site uses cookies. You usually have an option to accept this or find somewhere else to waste time. This notification is a UK law; all websites hosted in the UK which use cookies (pretty much every website in existence) have to show you this message.. if you agree to have cookies, your response is stored in... the cookie.
Anyway, here on Rontini, there are 4 cookies (normally) that you get. Two are good for 1 year, the other two expire when your session closes. The data they contain is encoded (not encrypted), and would be meaningless to most folks. Here is an example I just grabbed: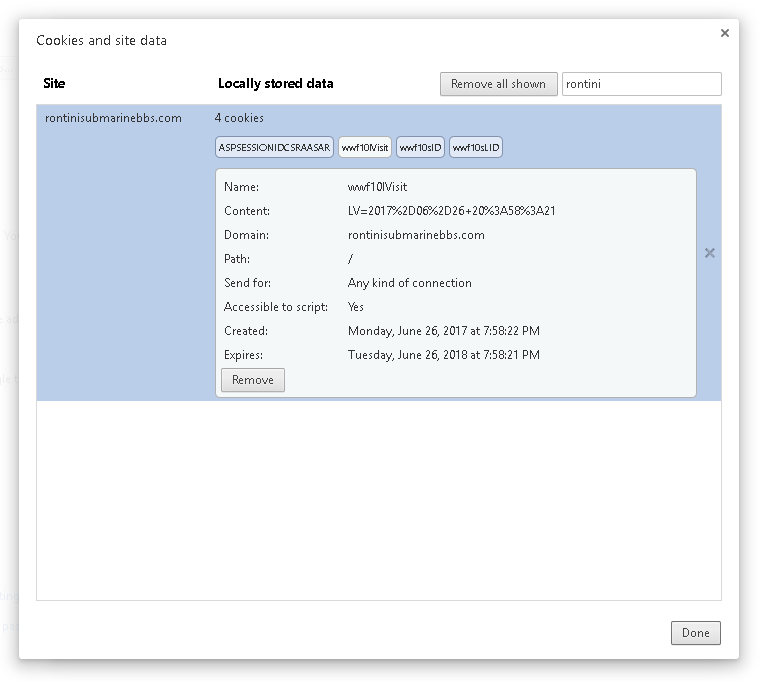 See the Content line? That is what is in the cookie. This one says LV=2017%2D06%2D26+20%3A58%3A21. %2D is a code that means "/", and %3A means ":".
So, in this case, it mean LastVisit (LV) was 2017/06/26+20:58:21 (note the time her eis server time, our server is in the CENTRAL time zone. In the picture, you can see my local time was 19:58. Anywho, this cookie gets refreshed every time you visit, and is good for a year form the last visit.
If you use CCleaner or other such tools and they delete cookies, you'll have to log again on your next visit.
Sorry this turned into a wall of text; I do this stuff for a living, so I can get carried away.
-G


Edited by gerry - 26 Jun 2017 at 9:13pm